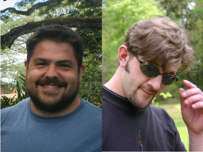 I recently participated in my second formal, moderated debate defending annihilationism. The resolution was, "The final punishment of the risen wicked will be annihilation, the permanent end to the conscious existence of the entire person." I affirmed, and Joshua Whipps, creator of the Razor's Kiss blog and contributor to Choosing Hats, denied. My friend Dee Dee Warren, host of The Preterist Podcast, moderated.
You can listen to the debate by subscribing to my podcast, which you can find by searching for "Theopologetics" in the iTunes Store or Zune Marketplace, or you can subscribe to the feed here, or you can stream or download the audio from www.theopologetics.com. I have divided it into three episodes: (1) Episode 88, "Death Eternal," contains our opening statements and the first round of rebuttals; (2) Episode 89, "God of Wrath," contains the first round of cross-examinations and second round of rebuttals; (3) Episode 90, "Christ Died For Us," contains the second round of cross-examinations, closing statements, and listener Q&A.
Since my opening argument was, in my opinion, a pretty decent argument in favor of annihilationism—and was a little unique, it seems to me, since it argues from texts historically used to make the case for the traditional view of hell—I've included it below. Read on if you're interested.